Once you've gone through the Disco Onboarding flow, follow these steps to Publish and go live on the platform. Want to attend a Welcome Workshop? You can register for our weekly session at the Welcome Webinar sign up page.
Read on for a detailed checklist of steps to successfully publish the DiscoFeed. You can also reference onboarding guide to help you along the way!
Disco Setup Checklist
Here's the full list of the things required to go live on the Disco Network, and each item will be explained below:
Confirm your Brand Identity
Select Products for the DiscoFeed
Edit your Products with New Creative and Copy
Publish Account and Submit Account for Review
Confirming your Brand Identity
In your Settings tab, choose your logo and banner. Confirm your Subcategories and Categories and adjust as needed.
Categories: Be as specific as possible to ensure the accuracy of your brand's exposure across the network.

Subcategories:

Based on each category selected, choose the subcategory that best describes your products.

Only select subcategories that directly relate to your product catalog.

If you can't find a subcategory that accurately reflects your products - let us know!


Adjust your Preferred Partner Categories: Broader categories mean more exposure, so add as many as you feel comfortable with.
Selecting and Updating Products for the DiscoFeed
You can follow along with the Setting Up Your Products on Disco and DiscoFeed Best Practices articles for the details on how to do this, but the key is to ensure you've enabled some products for Cross-Sell and that they're in line with the Disco Brand Guidelines.
Setting Up Payments
Subscribe to our $50/mo membership fee in-platform (settings > payment).
For Shopify Stores:

you may need your store owner to approve our Shopify subscription on your behalf.
Complete Integration and Payment Setup
For Shopify Brands
If using Shopify for both checkout and for Disco payments, there are no further integration setup steps.

If using Shopify and ReCharge, follow our ReCharge integration setup article to install our script on your checkout pages manually.
For Non-Shopify Brands
Follow our installation instructions to inject Disco's script on your checkout pages.

TIP

:

Run a test checkout

to ensure the DiscoFeed is loading on your order confirmation page!

The widget should appear at the top of the order confirmation page. Make sure to first publish the DiscoFeed to your site!

Set up Disco payments via Stripe.
Publish & Submit Account for Review
Click the blue 'Publish' button in the DiscoFeed > Manage section of your account to publish the DiscoFeed on your order confirmation page & submit your account for review.
For WooComm & BigComm Stores: make sure to install the Disco Script!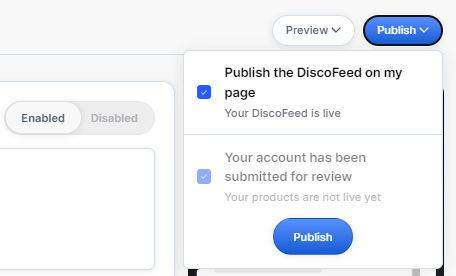 Once approved, you will be notified via email and your products will begin to display across the Disco Network.
What to Expect After Setup
The first few weeks on Disco will be a ramping period for our machine learning algorithm; it could take 1-3 months for brands to get fully ramped up and the longer brands are on the platform, the more our algorithm learns from your brand placement.
This is a good time to adjust your product cross-sells and upsells based on your best sellers as per our best practices, linked above.
In the meantime, join the Disco Slack Community and introduce yourself to exchange insights and develop meaningful connections with fellow leaders in the DTC industry.