Initial Setup
When you onboard to Disco we'll automatically pull in the products from your connected store. Once we've done that you can make changes to those products in Disco (though if you do make changes in Disco we won't push those changes back to your store.
While it is generally not necessary, there are a few reasons why you may consider manually uploading products to your Disco account
If you only sell one SKU of a product, you can manually upload at least three versions of the same product with different creatives and test slightly different product titles.
If Disco is having issues pulling in your product catalog.
If you want to feature the same product more than once, you can turn on the Shopify product and manually add in the same product.
How to Manually Product Upload
Go to the Products section of the DiscoFeed tab of your dashboard.
Select "Add Product" in the upper right corner
Include the following information:

Product Name
Product Image (1:1 aspect ratio)
Price
Discount Percent (if relevant)
Product Landing Page URL

Click "Save" in the upper right corner
Toggle the product on for cross-sell and/or upsell
Making Updates to Products
By clicking on a product from the list of products in your products page you open the product details view where you can make changes to a product. This allows you to edit the title and primary image for the product from its default via your storefront.
As a note, all changes made to products go through a verification process so we can screen content according to our Disco Brand Guidelines.
Product Titles & Creative Specifications
A product's title and primary image are what will be shown in the DiscoFeed and other places we display your products. The
Product Titles: Limited to 40 characters,
Images: 1:1 square image under 10 MB. PNG, JPEG, JPG, and GIFs are supported.
Do not upload supplementary images. You can only upload one image per product.
Organizing Products
Sort and edit your products using either the "By Collection" or "All Products" sections. Sorting "By Collection" is easier if you have a larger product offering. Collections are pulled from your Shopify store directly, you can learn more about Collections in Shopify via their Collections help center article.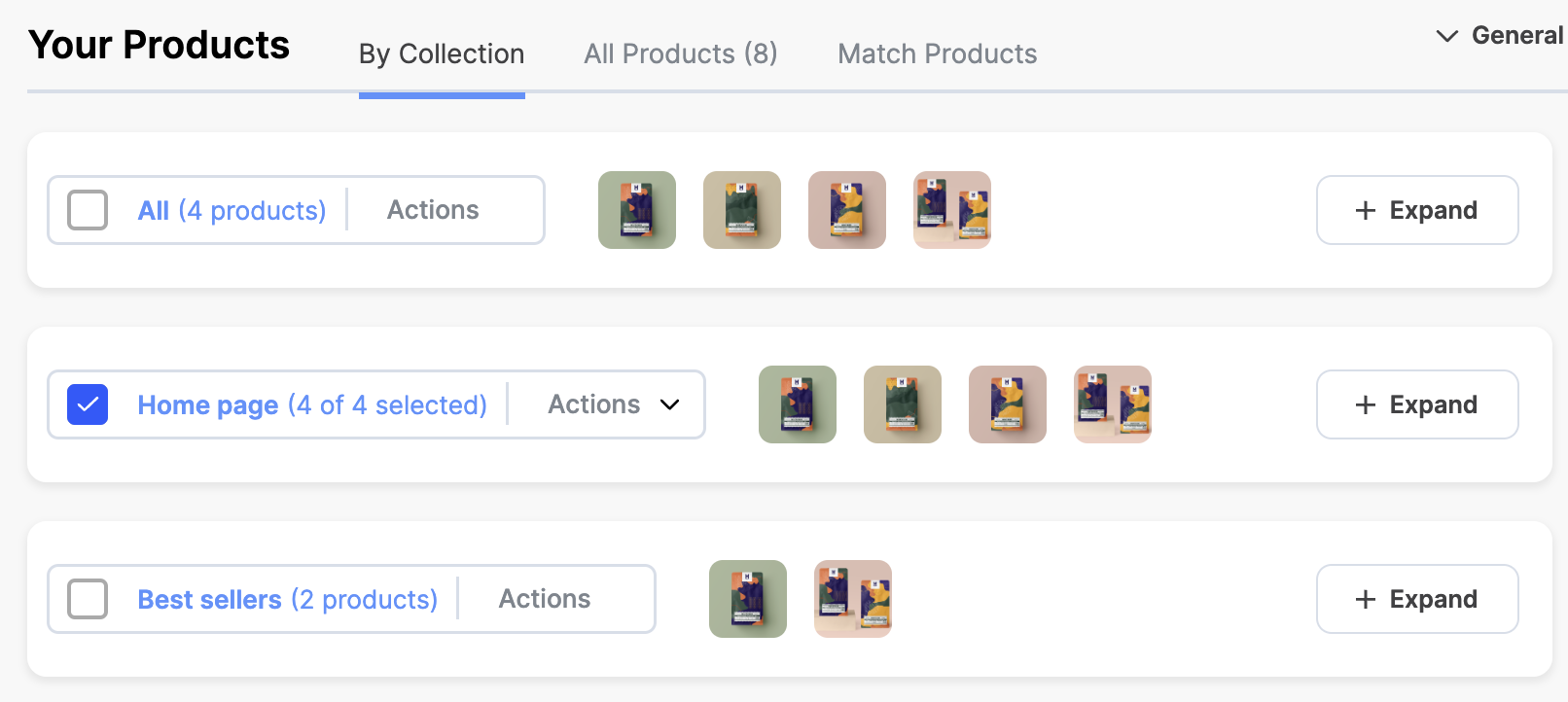 Activating Product Variants
If you have a SKU with variants, you can set the variants active to feature them as individual tiles on your DiscoFeed (meaning they would display as though they were a unique product, not a variant).
Click on the Product an when the sidebar opens, click Edit Variants. In the popup, select which variants you want to Show Individually. Double check that the titles and images are unique so they feel like distinct products when displayed next to one another.
This feature is mainly for brands who have 1-2 SKUs but multiple variants to fill out the suite of tiles displayed in the DiscoFeed for Cross-Sell and Upsell.