Enable Cross-Selling For Products
We recommend a minimum of four products enabled for cross-sell or upsell to ensure wherever your brand is displayed in the DiscoFeed you have enough products to fill out the row.
We recommend enabling 6-10 of your best sellers for cross-selling and upselling to maximize selection for shoppers.
To configure your product ordering, go to DiscoFeed > Manage > Manage Product Ordering.
Titles and Images
Adjust product titles and images with the following marketing-oriented suggestions:
Product Titles:

Update your product titles with copy that bolsters your brand's value prop and product specialty. Short, sweet, & literal product titles work best. Help customers best understand your value proposition by getting right to the point, within our 40 character limit.

(Ex: Selling 0g sugar candy? Shout that out in the product title!)

Images:

Lifestyle and colorful background creatives perform better than white-background product shots.

You can repurpose your most performant creatives from other channels and upload them to Disco!




GIFS: If available, upload 1 GIF to further demonstrate your product offering, or cycle through evergreen content.

Do not

upload more than 2 GIFs. Too much movement may distract the customer away from your display.

Image Specs: 1:1 aspect ratio and < 5MB file size.

Ordering: make sure to configure your products in the order you want them to appear

(

Grow > DiscoFeed > Manage Product Ordering

)
Updating Product Titles and Images
Select the product you want to update in the Products tab. Click on the pencil icon next to the product to edit product titles and images. Changes made to products in Disco will not sync back to your connected shop.
Updating Product Titles:
Click on the product title
Write the new title
Select the ✓ to save.
Updating Images:
If the image you want to use is not automatically pulling through as a supplementary image, you can manually upload a new image.
To manually upload an image, select "Update Image".

Do not

u

pload supplementary images. You can showcase one image per product.

Upload the image you want to replace the existing image with.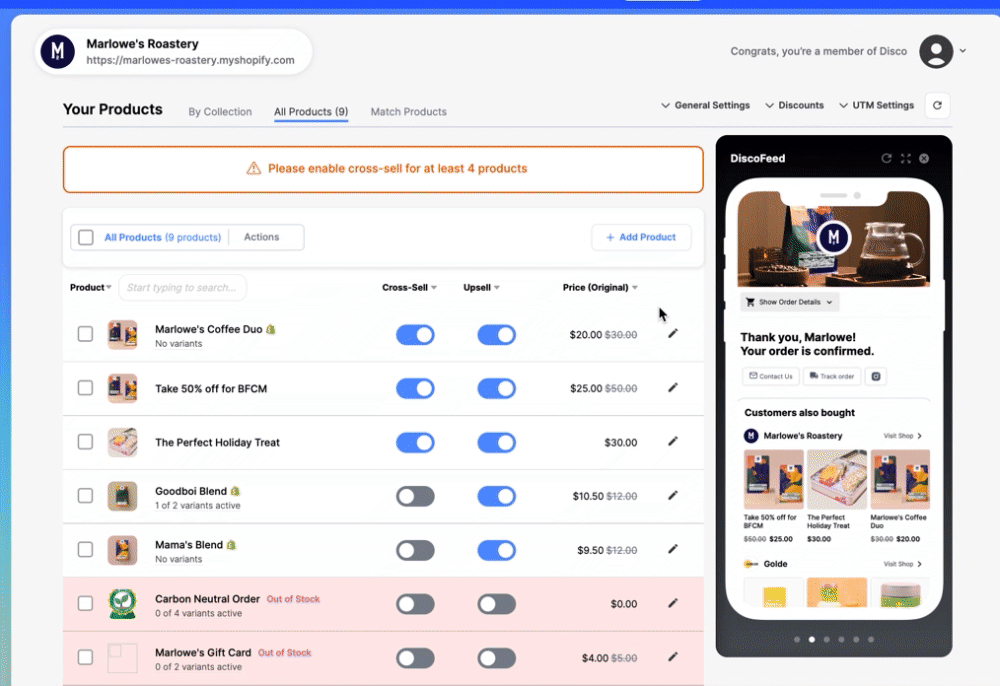 Manually Adding Products: adding products manually is a great way to showcase temporary promotions, upload evergreen content, or link to your highest converting landing pages (such as best sellers) instead of a specific PDP.
Examples of Great DiscoFeed Setups