Track performance on cross-selling, upselling, and more. To access, click on the Performance tab in your portal. We recommend waiting 3-8 weeks before drawing meaningful insights from your dashboard.
As time goes on, our algorithm gets more intelligent as we start to see which brands cross-sell the best with others; this means the platform is iteratively optimizing.
Summary Dashboard
A summary of revenue driven across all active Disco tools over the last 30 days. If you have upsells or one-click offers turned on, this is a great place to monitor your product performance all in one spot.
Some key tiles to check out:
Total Driven Revenue: revenue driven across all active Disco tools (cross-sell, upsell, offers).
CTR by Product (for both cross-sell and upsell products)to learn which products are most popular amongst your existing and prospective customers.
Daily Driven Revenue: a daily breakdown revenue driven from each tool.
Cumulative Conversions: important details about each conversion driven, such as row type (cross-sell, upsell, offer), the clicked product, driving brand, order ID, and conversion window.

Use the little three dots at the corner of the tile to export a CS of your results.


Partnerships Dashboard
Leverage your Partnerships dashboard to inform & improve your brand's partnership strategy. Which brands and categories are driving you the most customers? Where are your customers clicking next?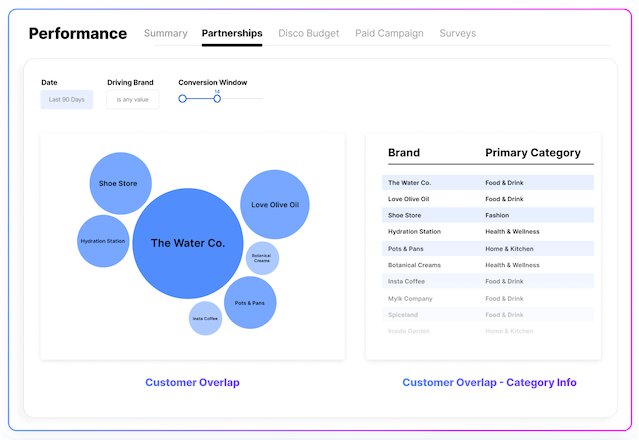 Customer Overlap: Uncover your top 10 partners on Disco who have the highest existing customer overlap with you. Any surprises? Let us know!
Tip: if you notice a category you aren't currently partnering with, make sure to update and expand your preferred partner categories within your account settings.
Who's Driving My Engagement? Discover which brands & categories are sending the most traffic to your site; of those, whose customers convert most often?
Who am I Driving Engagement To? What types of products and brands are your customers clicking to on your DiscoFeed?
Disco Budget Dashboard
View the progress of Disco's Guaranteed CPA/O model in the Disco Budget tab. Make sure to click on the "Month" dropdown to view each month's performance. Here are some key tiles to review:
Impressions & Clicks: the number of times your brand has displayed across the network within the selected month, and the number of clicks driven to your site as a result
ROAS: the return on your disco budget spend

How ad spend is calculated: the number of conversions driven at the CPA/O set. (EX: If Disco drove 6 net-new conversions at a $50 CPA in January, your total ad spend would be $300)

AOV: the average order value of Disco conversions. How does this compare to your AOV on other channels?
Who Drove My Conversions? review each conversion by customer type (new vs. returning), order value, the brand that drove it.
You can update your CPA and CPO month-to-month. To update these metrics, reach out to support@disconetwork.com.
Attribution
Disco does not rely on cookies for the majority of its conversions. Because of this closed-loop network, no users on our network go unidentified because we live post-checkout. We use email addresses, phone numbers, and other unique identifiers to stitch the conversion path together.+
Offers Performance
Offer Performance can be viewed both from the Performance Dashboard Offers tab as well as Sell > Offers.
Surveys Performance
Survey Results can be viewed both from the Performance Dashboard (Surveys tab) as well as the Surveys tab under Learn.